Name of Software: WordPerfect
Version of Software: WordPerfect Office 2000
Programming Language: C++
Origins: BYU in Orem Utah
Price: $300-$400 USD
Release Year: 1994
Initial Release: 1979
I'm a big fan of selling your software. Sometimes I like to take myself back to what it would be like to sell software out of a cardboard box at different big retailers. The magic of holding something in your hands is well magic! Now a days all the software that you purchase goes directly to your mobile device or access to restricted areas.
If you have purchase some of my products I use keys extensively. I hate the fact that I have to authenticate users with there email and password. This why Io'm a big fan of keys.
This sales copy is a good example of when you actually do hand out a key. It can be at the point of sale or if you want to offer it as some sort of incentive. In which ever case it might be it's important to keep the message from the sales copy to be consistent with the sales copy of the original product.
Sales Copy
---
Product Authenticity Card
Satisfaction guaranteed
At Corel, we're confident you'll be satisfied with your new software. Because we're commited to customer satisfaction, we offer a 30-day money-back guarantee. If you're not completely satisfied, simply call Corel Customer Service at 1-800-772-**** within 30 days of the date of purchase for a full refund. At Corel, your satisfcation is guaranteed.
Please note that your original receipt must be returned, along with the full product, to receive your refund. Shipping and handling costs are the responsibility of the customer.
Refund will be issued in the currency in which the product was purchased
Allow up to 10 weeks to receive your refund
This offer is valid only in the U.S.A and Canada
Void where prohibited or restricted by law
Core is not responsible for lost, destroyed, misdirected, postage due or delayed mail.
Contact us
Visit our Web site at www.corel.com and discover a wealth of resources. We've developed community sites especially for WordPerfect and CorelDraw users. Improve your productivity with monthly features, tips, and tricks, tutorials and more! Plus, get answers quickly from Corel experts and interact with other users in discussion forums.
Send us your comments! Visit our Web site at www.corel.com/contact and let us know what you like or don't like about our product. We enjoy hearing form you and will consider your valuable feedback for future releases. While you're at our Web site, be sure to check out the information on technical support, training, other resources and more.
IMPORTANT!
This is your serial number.
xxxxx-xxxxxxxxxx
Keep this number in a safe place. It will be required for online registration and technical support.
Download Original Content
---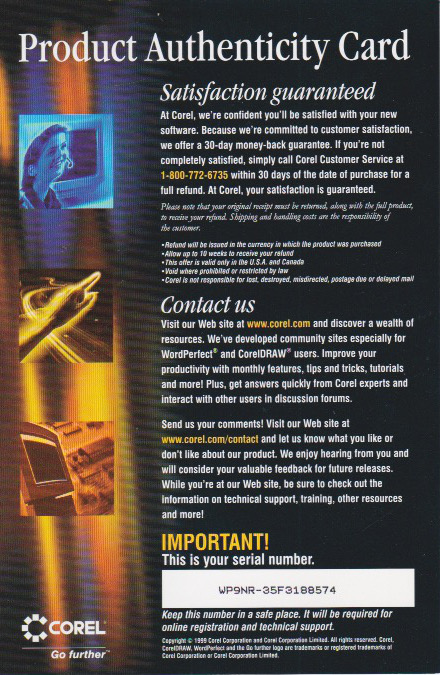 I always had a passion for the field of STEM (Science, Technology, Engineering, and Math) and I knew I wanted to do something to make a difference in the world. I just didn't know where to start. I was an immigrant in a new country, grew up in a tough environment, and wasn't sure how… Read More