Name of Software: Software Training
The version of Software: WordPerfect Office Training
Programming Language: Unknown
Origins: Unknown
Price: Unknown
Release Year: 1994
Initial Release: Unknown
Education is not easy to sell, sure I know I need it.
It's not one of those things where you jump for the excitement of paying money to get educated.
You can see this with the large budgets that go into marketing campaigns for Universities, remember they are selling you something you don't have an education.
This is hard to represent with something tangible, this is why Universities reward you with a diploma but the actual cost to the diploma is only a couple of dollars you but will end up paying $100,000+ in your studies.
This piece of content is interesting because they are trying to convince you to sign up for there in person training. The most effective part of this sales copy is the actual person representing this organization.
I believe this is true because it's humanizing the learning process and of course their little tagline
Learn Corel Software The Easy Way…
Sales Copy
---
Learn Corel Software The Easy Way…
…MENTION THIS AD TO GET A FREE COREL CLASS AT THE NEW HORIZONS CENTER IN YOUR AREA. TO LOCATE A NEW HORIZONS CALL 1-800-XX-XXXX.
New horizons is the best single source for your Corel authorized training. At New Horizons we're able to offer exactly the type of training you need, exactly the way you want it. Consider our credentials. Over 300 applications courses covering all major programs.
Instructor-led and Computer Based Training
Over 900 modular courseware manuals spanning nine languages.
Day, evening and weekend classes
Unconditional Learning Guarantee – repeat any class for up to six months for free
Free 24-hour a day telephone Help Desk
Affordable Club Membership let you take many application classes as you'd like
Customized client-site training centers
Authorized technical training centers
Over 200 cents in 28 countries
Like more information? Just call us today.
www.newxxxx.com * (800) xx-xxxx
Download Original Content
---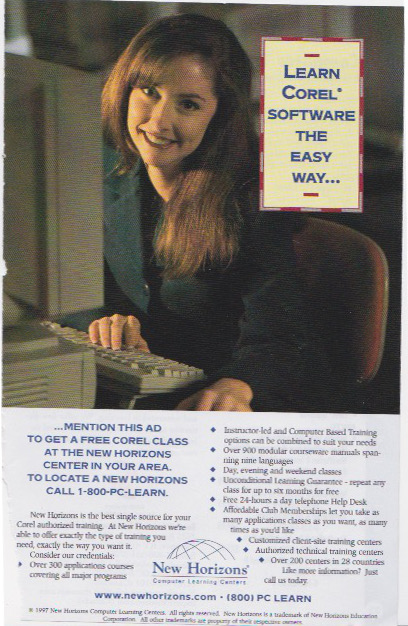 I always had a passion for the field of STEM (Science, Technology, Engineering, and Math) and I knew I wanted to do something to make a difference in the world. I just didn't know where to start. I was an immigrant in a new country, grew up in a tough environment, and wasn't sure how… Read More