Name of Software: Software Training
Version of Software: WordPerfect Office Training
Programming Language: Unknown
Origins: Unknown
Price: Unknown
Release Year: 1994
Initial Release: Unknown
This is some of the worst copy that I have seen by far! I still decided to type it up. Now I have a specific location to point when someone asks me what bad sales copy looks like.
Yes this is bad! By all means they want to do one single thing which is to SELL you on the product that they have. No importance is given to what you really want. This is a shame since they are missing out a new potential clients.
Sales Copy
---
SOUTH-WESTERN EDUCATIONAL PUBLISHING
Computer Training Series
A computer training package for each of Corel's WordPerfect Suite applications.
Features:
* Learn quickly through easy-to-follow practice exercises and solutions
* Users remember more because the text uses a "Read It, See It, Try It" approach.
* Reinforced confidence and experience are gained through hands-on exercises
Prices:
Name
Name
Name
* $18.95 each with book and template disk.
South-Western provides training materials appropriate for self-paced learning, staff development, one day work-shops, and group instructions. This versatile series gets you up and running in a short period of time (12+ hours of instruction).
Each feature is presented in two ways: Standard Instructions provide detailed, step-by-step explanations, while FastTrack Instructions provide only the basic keystrokes to carry out an operation.
Corel WordPerfect Series
South-Western Computer Education offers a full line of Corel Instructional product from some of the nation's leading authors of WordPerfect material.
FEATURES:
* Step-by-step instructions with numerous screen shots
* SCANS coverage and critical thinking activities prepare the user for skills in the workplace.
* Coverage of Corel WordPerfect certification exam guidelines to prepare the user
* Corel approved
PRICES:
* Included book with data disk. (Books without disks are available). WordPerfect 8 integrated by Eisch, Bouman, & Blake.
Our hands-on, step by step, skills development manuals provide Corel application content in easy-to-learn formats that can be tailored to your specific materials provide the support you require to keep readers engaged and interested in learning. We offer five distinctive series to meet your needs based on length of the course, and the number of exercises required.
---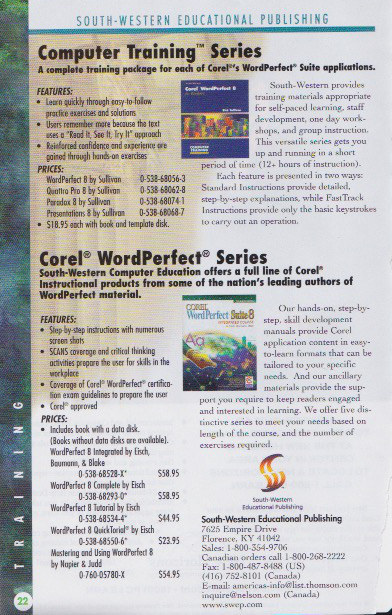 I always had a passion for the field of STEM (Science, Technology, Engineering, and Math) and I knew I wanted to do something to make a difference in the world. I just didn't know where to start. I was an immigrant in a new country, grew up in a tough environment, and wasn't sure how… Read More